Jacen thought when they crossed the Mississippi, heading west, they'd be out of danger.
He was wrong . . .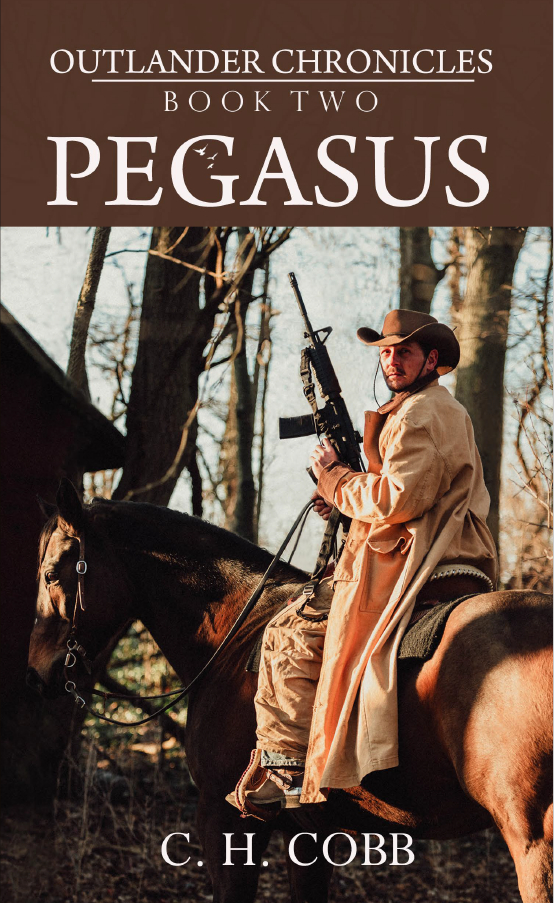 ————————–
It began as a blog. It became a political firestorm . . .
C. H. Cobb's new political thriller is now available from Doorway Press or Amazon or your local bookstore!

————————–
"An Air Force pilot with a few skills not in his official dossier finds himself on the run in a hostile nation in this thriller, the first in a projected series. . . . Cobb has clearly done his research on multiple counts and, like Tom Clancy or Dale Brown, masterly intertwines military technology and behavior into a tightly plotted narrative in which every development follows logically and smoothly from what came before. This deft touch extends to the characters: . . . This first installment chronicling the adventures of Maj. Jacob Kelly turns out to be an undisputed success." — Kirkus Reviews
RECENT NEWS FROM C. H. COBB
06/13/2018 – Join me at Bread of Life Christian Bookstore in Greenville OH, on July 6 for a book signing!
06/13/2018 – The Kindle version of Pegasus is complete, and will be available within 72 hours (as soon as KDP finishes their review of the files).
05/30/2018 – Outlander Chronicles: Pegasus is now available in print. The Kindle version will be available by the end of June.
05/25/2018 – Waiting for proofs. Cover is done, book is fully formatted for Print-on-Demand. Will start formatting for Kindle within a few weeks.
04/20/2018 – Main editing of Pegasus is complete. Doing a final read-through. On target for August release.
02/12/2018 – The rough draft of Pegasus is complete, weighing in at 107,796 words. Now begins the editing process.
01/13/2018 – Have created the page for Pegasus, and cooked up a temporary cover photo. The ISBN has been assigned, and the Library of Congress Control Number has been applied for. Probably about 15,000 words shy of completing the rough draft.
01/08/2017 – I have decided to rename Icarus to Pegasus. The target release date is still August, but the book will be titled: Outlander Chroncles: Pegasus.
01/06/2018 – Icarus is now at 85,000 words, and I'm working on chapter 18. The cover photos have been taken. Will be assigning an ISBN to the book soon. Target release date is August, I might be able to beat that by a very comfortable margin.
11/11/2017 – Icarus is now at 66,000 words. Chapter 13 is out to my beta readers.
10/4/2017 – Icarus is now at 61,000+ words. Chapter 12 has been released to my beta-readers.
7/31/2017 – Icarus is now at 45,000 words, and chapter 9 has been released to my beta-readers. The local newspaper did a story on my books, you can read it here.
7/9/2017 – Icarus now at 39,128 words. Hope to release chapter 8 to my beta readers this week.
7/4/2017 – Icarus now at 36,210 words. Have visualized the cover, which I'll have done in a custom shoot. Starting to put the pieces of that together (horse and tack, weapon, rider, location, photographer). Hope to do the shoot in September or October. Once the cover picture is done, I'll create a page for Icarus on this site.
6/26/2017 – Icarus now at 32,129 words
05/23/2017 – Icarus now at 22,529 words.
05/15/2017 – Icarus now at 20,000 words.
05/08/2017 – Completed Chapter 5 of Icarus. Now at 18600+ words.
05/01/2017 -Received a great review of The Candidate by author and journalist TJ Martinell. You can read the review here, on the Tenth Amendment Center Blog. Outlander Chronicles: Icarus is now north of 16,700 words. It's going very slowly, as my writing sessions are coming in brief spurts for the last month or so. But I'm pleased with the directions the tale is taking.
03/25/2017 -Now at 12,600 words. Have visited Iowa, and the route that the Phoenix group is taking.
03/13/2017 – Shoulder surgery went well, recovery has gone well, just a few more PT sessions and I'm all done with it. Have resumed running (praise the Lord), planning on running a half-marathon in June. Yahoo. I am now a little over 10,000 words into Outlander Chronicles: Icarus. After a very, very slow start, it is beginning to move a little faster. Will be writing with a slightly different approach–not doing much editing until the whole rough draft is done. Don't yet have an anticipated publication date: I am guessing we are about two years out. I will be posting progress reports here.
12/11/2016 – Oh, goody. Shoulder surgery tomorrow. Rotator cuff repair, plus other stuff.
12/10/2016 –About a month ago I transitioned all of my titles over to IngramSpark. Ingram is the catalog from which most independent booksellers order. I love CreateSpace, and it still holds all my titles, but when CS puts my titles on Ingram, there are so many middlemen involved the retail price of the book gets too high (otherwise, I owe THEM money when they sell one of my books). By dealing directly with Ingram, I am able to cut out one layer of the distribution network, and am able to lower prices but still have my titles in the Ingram catalog. This is why the retail price on Falcon Strike dropped from 17.95 to 12.95 (yay!). Bottom line: my titles are still available on Amazon (and always will be) in print or Kindle format, or from your brick and mortar bookstore, or from me (doorwaypress.com), or here in Greenville, from Bread of Life.

Anyhow, I am pleased because two people somewhere ordered The Candidate through a bookstore this week. That verifies that the transition is complete, and everything works!
Regarding The Candidate, I have submitted it to Kirkus for a review, should hear back in early Feb.
Regarding Outlander Chronicles: Icarus, I am still tinkering with the opening chapters. Want to get them just right. It's going slow, but will speed up once I get the first three chapters done. One of the challenges of writing a series is reintroducing your characters without boring the reader. Working on it . . .
10/21/2016 – All titles have been transitioned to IngramSpark for extended distribution. They should be available in the Ingram catalog used by booksellers nation-wide. The titles also remain available on Amazon (Kindle and print) and on my website.
9/18/2016 – With the exception of The Candidate, my other books (the Falcon trilogy, Outlander Chronicles: Phoenix, and A Prayer of Moses) will temporarily be unavailable in the Ingram catalog. What this means in practical terms is that for a brief time you won't be able to order them in a brick-and-mortar bookstore. I am transitioning my print books from CreateSpace's extended distribution system to IngramSpark's distribution system over the next 3 weeks or so. Once that transition is complete, they will reappear in the Ingram catalog used by booksellers nationwide. The Candidate is already available in the Ingram catalog through IngramSpark. It is also available on Amazon for Kindle.
The other books will still be available without interruption on my website, on Amazon, and at the local (Greenville, Ohio) Bread of Life bookstore.Once I have set up the transition, I am beginning work on Outlander Chronicles: Icarus, book 2 of the Outlander Chronicles.
8/15/2016 – The Candidate has been published and is available! Still working on getting it into the Ingram catalog, but you can get it from Amazon now, and from me by the end of the week.
8/2/2016 – All editing and read-throughs complete. The manuscript is fully formatted for CreateSpace. When the cover is ready it will be published!!
7/23/2016 – Received the manuscript back from my editor. Beginning the process of plugging in the changes.
7/11/2016 – Update on The Candidate: Rough draft is done and initial edits are complete. Final editing read-through has begun. Word count is 146,972. On schedule for an August release of the print version, and a September release of the Kindle version.
Archived News
June 2012 – June 2013
June 2013 – June 2014
June 2014 – June 2015
June 2015 – June 2016